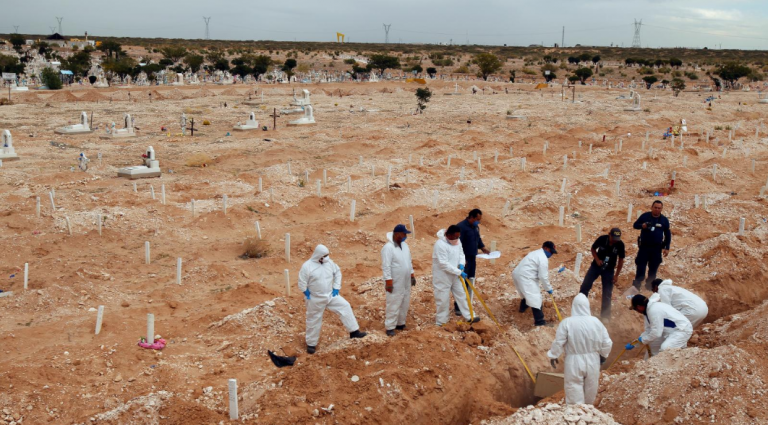 1: The local news doesn't report the need for the wall
Murders in Mexico rise by a third in 2018 to new record
Reuters reports in a 21 January 2019 article that murders rose in Mexico by 33%.
Murders in Mexico rose by 33 percent in 2018, breaking the record for a second year running, official data showed, underlining the task facing the new president who has pledged to reduce violence in the cartel-ravaged country.

Investigators opened to 33,341 murder probes compared with the previous year's record of 25,036, according to information from the Interior Ministry published on Sunday.

Mexico has struggled with years of violence as the government has battled brutal drug cartels, often by taking out their leaders. That has resulted in fragmentation of gangs and increasingly vicious internecine fighting

(Read more at Reuters)
Never mind the opioid crisis made possible by the cartels sending illegal drugs across the border, Nancy. Never mind the lives destroyed by the illegals who kill our mothers, sisters, brothers, and fathers — all the while you refuse to meet with grieving angel moms, Nancy.
Nancy, since you don't recognize facts brought to you that you don't like — why didn't you live by your own words. If walls are immoral and keeping people out is not what Americans do, why don't you open your doors to Laura Loomer and the friends she brought you?
Perhaps Vincente Fox can lecture us, again, on how immoral @realDonaldTrump is. reuters.com/article/us-mex…

—
Peter Hyatt (@PeterFHyatt) January 22, 2019
2: The local press doesn't report the desire for the wall
Most voters want secure border and say wall not immoral
OneNewsNow reports in a 15 January 2019 article how a recent poll from Rasmussen Reports contradicts the Democrat message.
In the face of House Speaker Nancy Pelosi's (D-Calif.) charge that building a secure wall at the United States-Mexico border is immoral, most American voters (53 percent) disagree, while less than four in 10 embrace the pro-immigration Democrat's advocacy of open borders.

"Fifty-three (53) percent of likely U.S. voters think it is better for the United States to tightly control who comes into the country," Rasmussen Reports announced Monday from its latest phone and online survey conducted on 1,000 likely American voters from Jan. 10–13. "Thirty-nine (39) percent disagree and say it is better to open our borders to anyone who wants to come here – as long as they are not a terrorist or a criminal."

(Read more at OneNewsNow)
One insane point that comes out by reading the OneNewsNow article seems to be how closely those self-identified Democrats in the poll fashion their opinions so closely to the talking points of the Democrat leadership (as opposed to the talking points of the Democrat leadership in 2008).
Most voters want secure border, say wall not immoral dlvr.it/QwhlYw https://t.co/V7jUCm7dNW

—
ChristianNewsOrg (@ChristianNewsOr) January 15, 2019
@irritatedwoman @raniecep Per a recent Harvard/Harris poll, most registered voters want a secure border. https://t.co/8y6YedsbeF

—
Soquel by the Creek (@SoquelCreek) July 30, 2018
American Family Association Survey Finds Support for Wall Funding
The AFA publication The Stand reports in a 15 January 2019 article how their poll also supports the President's message on the wall.
American Family Association (AFA) conducted a new survey on border security. The purpose of the survey was to identify the interest of AFA supporters on the issue of border security and to gauge the level of support they had for President Donald Trump's plan for constructing a wall on the southern border. In the first few hours, nearly 20,000 people responded! In all, 34,514 respondents weighed in for the three-question survey that ended Friday afternoon.

First, nearly all respondents (96%) said they support President Trump's plan for a physical barrier at the southern border. A very small number of respondents (3%) opposed the president's plan. Respondents having no opinion on the president's plan were few (1%).

The most startling statistic of the survey is that an overwhelming majority (90%) of AFA supporters want President Trump to continue the partial government shutdown to force Congress to fund construction for the border wall.

Building a wall on the U.S. southern border was a signature campaign promise of then-presidential candidate Donald J. Trump. His strong stance on border security was one of the main reasons he was catapulted into the presidency.

Despite a partial government shutdown, President Trump is maintaining a firm resolve to secure government funding to build the wall. Democrats in Congress seem determined in their resolve to obstruct the very agenda that put the president in the White House and are refusing to allocate funds for a border wall. Congressional Republicans are standing with the president.

(Read more at The Stand)
Take in mind that most of these respondents hold a Christian faith. According to the main stream media, that disqualifies us.
3: The local press will not show the Democrats when they refuse to listen to American victims of illegal alien crime
Angel Moms Show Nancy Pelosi's Office Walls Kept Them Out
Breitbart reveals through a 16 January 2019 article how Speaker of the House Nancy Pelosi dodged a meeting with the mothers of victims of illegal aliens.
Angel families stormed Pelosi's office Tuesday asking for the Speaker to meet with them and hear their pleas for a wall and border security.

"It's nice walls in here, all the way, four walls in here," said angel mom Sabine Durden. Her son Dominic Durden was killed by an illegal alien. Durden asked the staff if she was to go through the secondary office door, would she be arrested. A Pelosi staffer simply told Durden she would ask her not to go through.

Durden then told the staff, "We asked my son's killer not to and he still did." – a reference to the foreign national who illegally crossed the U.S. southern border before killing her son. "And Pelosi doesn't care about that."

Read more at Breitbart)
But, of course, nobody ever accused San Fran Nan of being broad minded. Or open. Or fair.
I only wish that local angel moms (like Pasadena, Texas resident Mary Ann Mendoza) would get a response from local Democrats — especially those [like Lizzie Fletcher] who promised they would not be under the thumb of Nancy Pelosi).
Angel mom tells @SpeakerPelosi that "blood is on her hands" for her refusal to work with @realDonaldTrump to finall… twitter.com/i/web/status/1…

—
Donald Trump Jr. (@DonaldJTrumpJr) January 12, 2019
Angel mom whose son was killed by an illegal immigrant, "Nancy Pelosi you have a nice wall around your house, build… twitter.com/i/web/status/1…

—
Chris Barron (@ChrisRBarron) January 15, 2019