Soldiers unleash tear gas amid tension on Venezuela's border
The Associated Press tells us through a 23 February 2019 article how Venezuelan soldiers shot tear gas at the border
A U.S.-backed campaign to force President Nicolas Maduro from power met strong resistance Saturday from Venezuelan security forces who fired tear gas on protesters trying to deliver humanitarian aid from Colombia and Brazil, leaving two people dead and some 300 injured.

Throughout the turbulent day, as police and protesters squared off on two bridges connecting Venezuela to Colombia, opposition leader Juan Guaido made repeated calls for the military to join him in the fight against Maduro's "dictatorship." Colombian authorities said more than 60 soldiers answered his call, deserting their posts in often-gripping fashion, though most were lower in rank and didn't appear to dent the higher command's continued loyalty to Maduro's socialist government.

In one dramatic high point, a group of activists led by exiled lawmakers managed to escort three flatbed trucks of aid past the halfway point into Venezuela when they were repelled by security forces. In a flash the cargo caught fire, with some eyewitnesses claiming the National Guardsmen doused a tarp covering the boxes with gas before setting it on fire. As a black cloud rose above, the activists — protecting their faces from the fumes with vinegar-soaked cloths — unloaded the boxes by hand in a human chain stretching back to the Colombian side of the bridge.

"They burned the aid and fired on their own people," said 39-year-old David Hernandez, who was hit in the forehead with a tear gas canister that left a bloody wound and growing welt. "That's the definition of dictatorship."

(Read more at the Associated Press)
When the socialist leader of Venezuela will not allow starving citizens to get to food and medicine, that shows him to be a dictator.
Venezuelan soldiers unleash tear gas as tensions rise over blocked humanitarian aid cbsn.ws/2Nv2iFX https://t.co/Go3suQuySI

—
CBS News (@CBSNews) February 23, 2019
Venezuelan troops abandon posts amid violent clashes with protesters at Colombian border
Fox News reports in a 23 February 2019 article how Venezuelan troops have abandoned their posts in the middle of clashes with protesters.
At least five Venezuelan troops have abandoned their posts at the country's border with Colombia as confrontations with protesters over incoming humanitarian aid grow more violent by the day.

The soldiers abandoned their watch on Saturday near the Simon Bolivar International Bridge at the Venezuela-Colombian border and reportedly requested assistance from Colombian immigration officials. In nearby Urena, the Venezuelan National Guard fired tear gas and rubber bullets at protesters attempting to cross the border in order to work, BBC reports. Protesters were seen throwing rocks at troops and attacking buses.

At the country's other border in Brazil, four people have been killed as of Friday, and an additional 18 have been injured by colectivos — armed gang members who support President Nicolas Maduro, according to Alfredo Romero, the director and president of the Venezuelan human rights association Foro Penal.

Rising tensions have erupted amid opposition leader and self-declared President Juan Guaido's decision to lead a caravan with thousands of volunteers to the Colombian border to collect at least 200 tons of humanitarian aid, primarily food and medicine. On Saturday, Guaido announced that the first shipment of aid had crossed the border from Brazil, calling it a "great achievement." That statement, however, has been refuted by news that two trucks carrying aid from Brazil are stuck at the Venezuelan border.

(Read more at Fox News)
It is heartening to hear that at least some of the soldiers had compassion on the starving citizens and abandoned their posts. While it is understandable (since Maduro's military holds the families of the soldiers), it is sad that some soldiers would fire on civilians trying to reach food and medicine.
Aid Shipments Cross Venezuelan Border As Maduro's Soldiers Abandon Their Posts trib.al/5VRJPgM https://t.co/amCKdSJJHE

—
The Daily Caller (@DailyCaller) February 24, 2019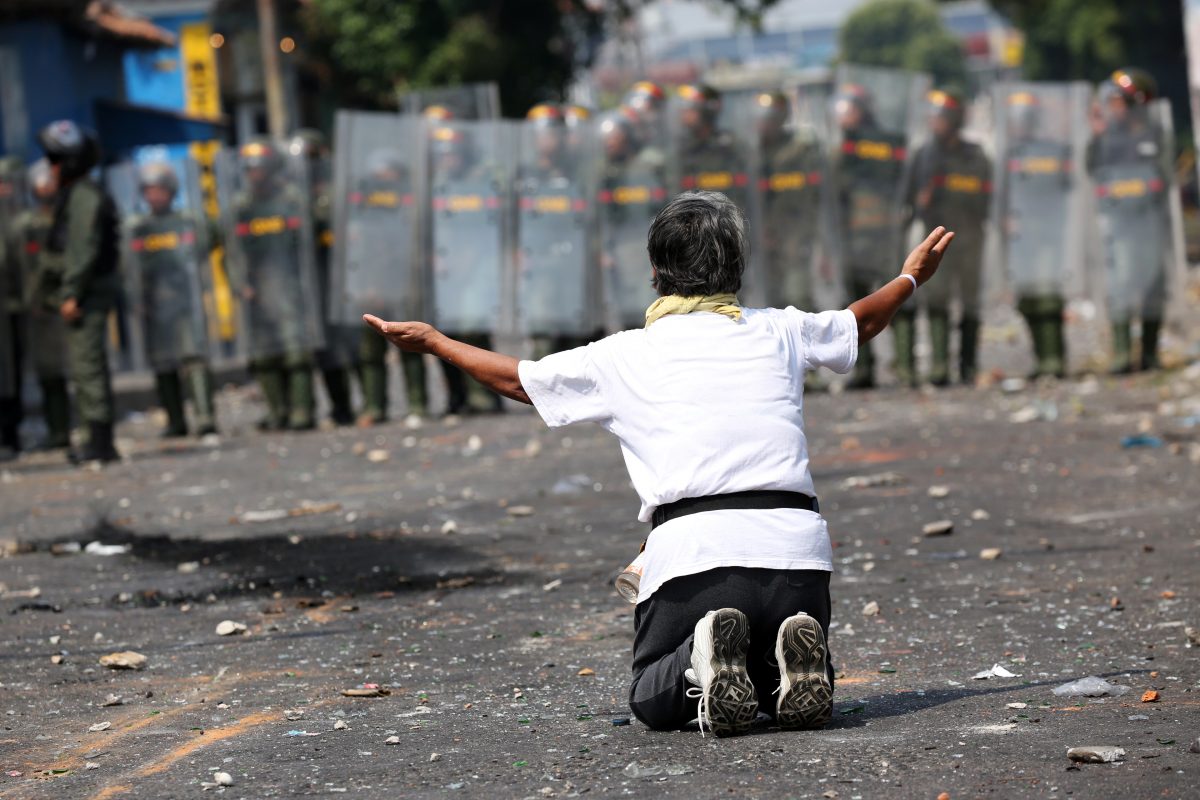 Venezuela humanitarian aid met with tear gas and gunfire on borders
Reuters reports in a 23 February 2019 article how Maduro deals with protestors.
Troops loyal to President Nicolas Maduro turned back foreign aid convoys from Venezuela's border using tear gas and rubber bullets on Saturday, killing two protestors and putting his socialist government on a collision course with Washington.

Trucks laden with U.S. food and medicine for Venezuela returned to warehouses in Colombia after opposition supporters failed to break through lines of troops, who fired rubber rounds to disperse them, injuring dozens of people.

Angered by the Colombian government's support for opposition leader Juan Guaido, Maduro said he was breaking diplomatic relations with Bogota and gave its diplomatic staff 24 hours to leave the country.

Guaido, who most Western nations recognize as Venezuela's legitimate leader, had given a personal send-off to Saturday's convoy carrying aid from the Colombian city of Cucuta.

The opposition had hoped Venezuelan soldiers would baulk at turning back supplies desperately needed in the country, where a growing number of its 30 million people suffer from malnutrition and treatable diseases.

(Read more at Reuters)
Venezuela standoff turns deadly as Maduro's troops block foreign aid delivery nationalpost.com/news/world/hum…

—
CHICO (@CHICO25092989) February 24, 2019
Two people killed in Venezuelan town near Brazil in clashes over aid
Reuters reports in a 23 February 2019 news release how Maduro deals with those who try to get aid.
Two people were killed on Saturday in the Venezuelan town of Santa Elena de Uairen in clashes with security forces over the opposition's plan to bring in aid from nearby Brazil, a doctor at the hospital where they were taken said.
We must all pray for the families of those who were shot.
Maduro reveals secret meetings with US envoy
AP News reports from a 15 February 2019 interview how Maduro has been meeting with a US envoy.
A month into Venezuela's high-stakes political crisis, President Nicolas Maduro revealed in an Associated Press interview that his government has held secret talks with the Trump administration. He also predicted he would survive an unprecedented global campaign to force his resignation.

While harshly criticizing President Donald Trump's confrontational stance toward his socialist government, Maduro said Thursday that he holds out hope of meeting the U.S. president soon to resolve a crisis triggered by America's recognition of his opponent, Juan Guaido, as Venezuela's rightful leader.

Maduro said that during two meetings in New York, his foreign minister invited the Washington-based special envoy for Venezuela, Elliott Abrams, to visit "privately, publicly or secretly."

"If he wants to meet, just tell me when, where and how and I'll be there," Maduro said without providing more details. He said both New York meetings lasted several hours.

U.S. officials have not denied Maduro's claim of talks.

A senior administration official in Washington who was not authorized to speak publicly said U.S. officials were willing to meet with "former Venezuela officials, including Maduro himself, to discuss their exit plans."

(Read more at >AP News)
Since we are to pray for our leaders, we should pray for the work of this envoy and the Venezuelan diplomats. Hopefully, Maduro will allow a regime change in what was once the most prosperous country of South America.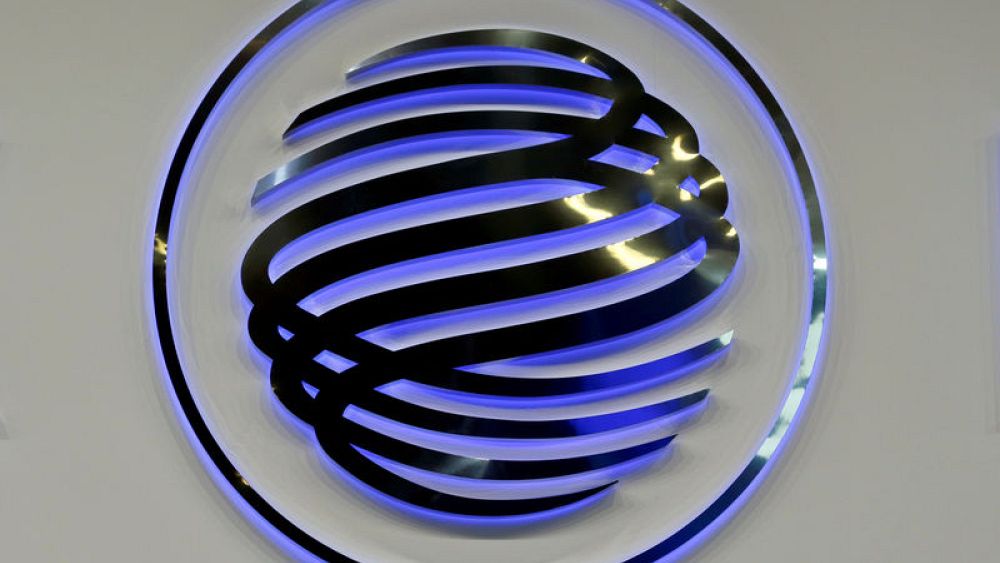 Russia's Gazprombank freezes accounts of Venezuela's PDVSA
We read in a 17 February 2019 Reueters article that Russian bank Gazprombank froze Venezuela's PDVSA.
Russian lender Gazprombank has decided to freeze the accounts of Venezuelan state oil company PDVSA and halted transactions with the firm to reduce the risk of the bank falling under U.S. sanctions, a Gazprombank source told Reuters on Sunday.

While many foreign firms have been cutting their exposure to PDVSA since the sanctions were imposed, the fact that a lender closely aligned with the Russian state is following suit is significant because the Kremlin has been among Venezuelan President Nicolas Maduro's staunchest supporters.

"PDVSA's accounts are currently frozen. As you'll understand, operations cannot be carried out," the source said. Gazprombank did not reply to a Reuters request for a comment.

PDVSA brandished the story as "fake news" on its Twitter account in capital red letters, but did not reply to a request for comment.

(Read more at Reueters)
Like the saying goes, "There is no free lunch." Someone will pay in the end.
It is just too bad that Venezuela's banks have been emptied, its riches made near worthless, and its peoples starved all while Maduro gets fatter.
Colombia leader urges China to back Maduro foes
Seeking a more stable neighbor, Columbia has urged China to support the foes of Maduro — as reported in a 14 February 2019 Associated Press article
The president of Colombia says China's role in Latin America would be stronger if the Asian country recognized Venezuelan opposition leader Juan Guaido as the country's interim president instead of backing President Nicolas Maduro.

Speaking during a visit to Washington, Ivan Duque said Thursday: "I really would advise China to make that decision."

China is one of 16 countries that have publicly supported Maduro during the recent resurgence of Venezuela's political crisis. The United States, Canada, most Latin American nations and many European countries are siding with Guaido.

The Colombian leader is also urging the international community to cooperate so humanitarian aid can be taken into Venezuela on Feb. 23 as Guaido is planning. Venezuelans have been suffering with severe shortages of food and medicine amid their country's economic collapse.

Duque says that "February 23 has to be the day in which everybody mobilizes and tells the dictatorship: 'That's it. Allow the humanitarian aid.'"

(Read more at the Associated Press)
Venezuela shifts oil ventures' accounts to Russian bank
Reuters reports in a 9 February 2019 article how Venezuela has shifted their monies to a Russian bank.
Venezuela's state-run oil company PDVSA is telling customers of its joint ventures to deposit oil sales proceeds in an account recently opened at Russia's Gazprombank AO, according to sources and an internal document seen by Reuters on Saturday.

PDVSA's move comes after the United States imposed tough, new financial sanctions on Jan. 28 aimed at blocking Venezuela's President Nicolas Maduro's access to the country's oil revenue.

Supporters of Venezuelan opposition leader and self-proclaimed interim president Juan Guaido said recently that a fund would be established to accept proceeds from sales of Venezuelan oil.

The United States and dozens of other countries have recognized Guaido as the nation's legitimate head of state. Maduro has denounced Guaido as a U.S. puppet seeking to foment a coup.

(Read more at Reuters)
Oil workers flee Venezuela's crisis for a better life
According to one Associated Press article dated 8 February 2019, Venezuelan oil workers have been fleeing the regime as they seek a better life.
Nieves Ribullen, a Venezuelan oil worker sick of struggling to get by as his country falls apart, is betting it all on Iraq's far-away Kurdish region to give his family a better life.

Over the years he's watched dozens of co-workers abandon poverty wages and dangerous working conditions at the rundown complex of refineries in Punto Fijo on Venezuela's Caribbean coast for jobs in far-flung places like Kuwait, Angola and Chile.

Now it's his turn. Leaving his wife and three children behind, he'll soon ship out to Iraq's semi-autonomous northern Kurdish region, where he expects to earn more than $3,500 a month — a fortune compared to the less than $20 he brings home monthly in increasingly unstable Venezuela.

"I only earn enough to buy a kilo (2 pounds) of meat and one chicken each month," Ribullen said. "We're in chaos."

Opposition leader Juan Guaido has rallied support from distraught Venezuelans and roughly 40 countries that now recognize him as Venezuela's rightful president.

But the accelerating exodus of oil workers means that Venezuela's crude production — already at a seven-decade low — is unlikely to rebound anytime soon, even if recently-imposed U.S. sanctions are lifted and a business-friendly government replaces the increasingly wobbly President Nicolas Maduro.

Venezuela was once one of the world's top five oil exporters, pumping 3.5 million barrels a day in 1998 when President Hugo Chavez was elected and launched Venezuela's Bolivarian revolution. Today, the state-run oil company PDVSA produces less than a third of that. Critics blame corruption and years of mismanagement by the socialist government.

Even worse, production is about to sink even further due to fresh sanctions by the Trump administration targeting PDVSA that have essentially cut off Venezuela from its Houston-based cash-cow, Citgo, with the aim of depriving Maduro of more than $11 billion in exports this year.

Despite the short-term pain they will bring Venezuela, Guaido said the sanctions are a critical part of stopping Maduro from consolidating power in what he calls a "dictatorship."

(Read more at the Associated Press)
As for myself, I work for a oil-industry company. If the government of my country had changed to the extent that it threatened my family's life and my life, I would take the action taken by these workers.
'I Am Just Another Soldier': Maduro Trains to Fight U.S. Troops
A 7 February 2019 Breitbart article shows how a coward Venezuelan who lost the election now pretends to be a common man and a protector.
Venezuelan dictator Nicolás Maduro once again posted videos of himself Wednesday appearing to train with his armed forces to prepare for an allegedly incoming U.S. invasion, this time participating in what appear to be cardiovascular exercises and training with the national air force.

Maduro has managed to retain control of much of the military since the nation's legislature, the National Assembly, deposed him and replaced him with current President Juan Guaidó, as mandated by the Venezuelan constitution. The Air Force, however, has been among the least loyal. Last week, one of the highest ranking soldiers to defect to Guaidó, Air Force General Francisco Esteban Yánez Rodríguez posted a video on social media claiming "90 percent of the Bolivarian National Armed Forces are not with the dictator" and urging more to defect.

Maduro's visit to air force training appears to be an attempt to dispel the perception of abandonment that Yánez's video created.

(Read more at Breitbart)
Yeah. Maduro is "just another soldier." Only thing is that his family is not starving, he is twice as fat as any soldier, and he has about 200 Russian mercenaries around him. But otherwise …
How Venezuela turns its useless bank notes into gold
According to a 10 February 2019 Reuters article, Maduro has found another way to extract money out of a bankrupt society where people eat pets.
Venezuela's most successful financial operations in recent years have not taken place on Wall Street, but in primitive gold-mining camps in the nation's southern reaches.

With the country's economy in meltdown, an estimated 300,000 fortune hunters have descended on this mineral-rich jungle area to earn a living pulling gold-flecked earth from makeshift mines.

Their picks and shovels are helping to prop up the leftist government of President Nicolas Maduro. Since 2016, his administration has purchased 17 tonnes of the metal worth around $650 million from so-called artisan miners, according to the most recent data from the nation's central bank.

Paid with the country's near-worthless bank notes, these amateurs in turn supply the government with hard currency to purchase badly needed imports of food and hygiene products. This gold trade is a blip on international markets. Still, the United States is using sanctions and intimidation in an effort to stop Maduro from using his nation's gold to stay afloat.

The Trump administration is pressuring the United Kingdom not to release $1.2 billion in gold reserves Venezuela has stored in the Bank of England. U.S. officials recently castigated an Abu Dhabi-based investment firm for its Venezuela gold purchases, and have warned other potential foreign buyers to back off.

The existence of Maduro's gold program is well-known. How it functions is not.

To get a glimpse inside, Reuters tracked Venezuela's gold from steamy jungle mines, through the central bank in the capital of Caracas to gold refineries and food exporters abroad, speaking with more than 30 people with knowledge of the trade. They included miners, intermediaries, merchants, academic researchers, diplomats and government officials. Almost all requested anonymity because they were not authorized to speak publicly, or because they feared retribution from Venezuelan or U.S. authorities.

(Read more at Reuters)
If you look at how the rich in Venezuela have taken the near-worthless notes and turned them into gold, think about the poor Venezuelans under the boot of socialism. Think about how they have been starving. Think about how their money has been made worthless. Think about how they have been bartering for what they need for years.
#UPDATE Under Nicolas Maduro's guidance, Venezuela has descended into economic crisis marked by hyperinflation, rec… twitter.com/i/web/status/1…

—
AFP news agency (@AFP) February 08, 2019
A 2.4 kg chicken is pictured next to 14,600,000 bolivars, its price and the equivalent of 2.22 USD, at a mini-marke… twitter.com/i/web/status/1…

—
Gold Telegraph (@GoldTelegraph_) February 09, 2019
A few months ago, photographer Carlos García took these to illustrate how many bolívares it takes to buy the most b… twitter.com/i/web/status/1…

—
Vera Bergengruen (@VeraMBergen) February 07, 2019
#Breaking @NOS #Venezuela - Money is literally strewn on the streets and roads of this communist-ruled, bankrupt co… twitter.com/i/web/status/1…

—
(@AdrianaStuijt) December 18, 2018
US emergency aid for Venezuela arrives at Colombian border
An Associated Press article dated 8 February 2019 tells us that US aid for the citizens of Venezuela arrived at the Columbian border.
Trucks carrying U.S. humanitarian aid destined for Venezuela arrived Thursday at the Colombian border, where opposition leaders vowed to bring them into their troubled nation despite objections from embattled President Nicolas Maduro.

Two semi-trailers loaded with boxed emergency food and medicine rolled into the Colombian border city of Cucuta, which is just across the river from Venezuela.

"The United States is prepositioning relief items — including food, nutritional supplements, hygiene kits and medical supplies — in Colombia so they are available to reach those most in need in Venezuela, as soon as possible," said a U.S. official, speaking on condition of anonymity because he was not authorized to speak publicly about the issue.

The focus of Venezuela's political fight now hinges on whether Maduro will allow the aid to enter the country, a move anticipated in coming days.

Maduro denies a humanitarian crisis exists and says Venezuela is not a country of beggars. The Venezuelan military has barricaded a bridge between the two nations with a tanker and two cargo trailers in an apparent attempt to block the aid.

Opposition leader Juan Guaido, who requested the international assistance, said it is necessary in a country racked by shortages of food and medicines.

Guaido, who has the backing of some 40 countries, including the United States, is seeking to oust Maduro following a 2018 election that many have denounced as a sham. Long-time allies Russia and China and several other countries continue to support Maduro.

About a dozen human rights activists stood at the gated entrance to the Tienditas International Bridge on Colombia's side, demanding Maduro allow the emergency aid to cross into Venezuela. They waved flags while Colombian police trucks carrying armed officers and other authorities drove by throughout the day.

(Read more at the Associated Press)
So America gives to the Venezuelan people and Maduro has his troops set the trucks on fire. The only vehicles that survive are those that stay out of Venezuela.
Could women in white sway Venezuelan soldiers blocking aid
In a 8 February 2019 Associated Press article, we are told how the women in white might sway the soldiers.
The soldiers blocking humanitarian aid from entering Venezuela look unlikely to give any ground, but Maria Acevedo thinks she knows how to make them let the shipments through.

Acevedo, 26, wants to join together with fellow Venezuelan women and escort the food and medicine across the border from Colombia.

Her bet is that a group of hungry and suffering mothers, sisters and daughters can convince the soldiers to break with President Nicolas Maduro and let the US aid shipments pass.

Maduro, who is locked in a power struggle with opposition leader and self-declared interim president Juan Guaido, refuses to let the aid through. He calls it a "show" and says Venezuela's humanitarian crisis has been manufactured by Washington to justify a "coup."

What happens to the sea of shiny white plastic bags filled with vital supplies — and to Venezuela itself — now hinges on the military, which has so far stood by Maduro.

But Acevedo, who has three children, thinks she and her fellow Venezuelan women can change that.

She should know — she comes from a family of soldiers.

"I come from a military family, too. And my family is against this, against the army blocking humanitarian aid.

"But my family can't do anything. Only the top brass," Acevedo told AFP in Cucuta, on the Colombian side of the border.

(Read more at the Associated Press)
The answer is, "No."
MORE: The Women in White march in Ureña in opposition of the Venezuelan border closing #tictocnews https://t.co/YpFMsEjoS0

—
TicToc by Bloomberg (@tictoc) February 23, 2019
Venezuelan opposition targeted by internet censors
The Associated Press reports in a 3 February 2019 article that Maduro's opposition has experienced targeting by Internet censors.
Opposition leader Juan Guaido's calls for Venezuelans to abandon Nicolas Maduro's government are booming across the world outside, but the self-declared interim president is having a harder time delivering his message at home.

Watchdog groups in Venezuela and abroad say Guaido's efforts to reach citizens via the internet have been hindered by the dominant provider — state-run CANTV — in a country where critical newspapers and broadcast media already have been muzzled.

Since Jan. 23, when Guaido proclaimed himself interim president and when protests against Maduro's rule broke out, CANTV has blocked access to social media sites at least four times, according to the monitoring groups.

Those disruptions have coincided with politically significant events, including a rally attended by thousands of people last week and a Jan. 27 night speech that Guaido livestreamed on Periscope to call for a new round of protests and urge members of the military to defect.

CANTV accounts for about 70 percent of Venezuela's fixed internet connections and 50 percent of mobile, and Netblocks, a non-government group based in Europe that monitors internet censorship, found that the government provider blocked Facebook, Instagram, Twitter and YouTube during 12 of the 13 minutes that Guaido's speech lasted, so the stream could only be seen without interruptions by people using privately run internet providers.

The organization runs tests from its headquarters with software that captures evidence of connection failures. It also has designed a scanner app that volunteers in affected countries can use to run tests from their own phones or computers.

(Read more at the Associated Press)
You can always count on Facebook, Google, Twitter, and tech companies to be on the side of tyranny.
Chavez-era ex-officials turn backs on Venezuela's Maduro
A 2 February 2019 France24 article points out how the old guard Socialists in Venezuela have started to abandon Maduro.
They embraced the socialist revolution of late leader Hugo Chavez along with millions of other Venezuelans, but four former officials have now been left disillusioned by Nicolas Maduro's regime.

These officials from the Chavez era consider Maduro "illegitimate," but they are torn between supporting self-proclaimed president-elect Juan Guaido and looking for another way out of the political crisis.

Maduro, with the backing of the powerful military, is desperately trying to hold onto power in the face of opposition leader Guaido's audacious challenge, supported by the United States.

Twenty years after Chavez came to power, the country is in the grip of economic and political crises, and the four "Chavistas" have turned their back on his hand-picked successor.

(Read more at France24)
Mutiny Breaks Out At Venezuela's Central Bank
According to a 2 February 2019 blog post at Zero Hedge, Venezuela's central bank has started to revolt.
While the world obsesses how much longer Venezuela's Nicolas Maduro can remain in power before he loses the support of the local military or the US deploys yet another "humanitarian mission" to depose him, forcing the embattled dictator to place several tons of the country's dwindling gold on a cargo plane to a non-extradition destination as he takes one final trip abroad, the ongoing "soft coup" is also playing out within the halls of the central bank, where in addition to a lot of currency printing in recent years, Bloomberg reports that staffers are waging a small mutiny and refusing to sign-off on key bank transactions.

(Read more at Zero Hedge)
Russian mercenaries reportedly in Venezuela to protect Maduro
The Guardian reports in a 25 January 2019 article that Maduro does not trust Venezuelan troops enough to use them in his protection detail.
Russian private security contractors have travelled to Venezuela to provide security to the embattled president Nicolás Maduro, the Reuters news agency has reported.

Citing three sources, the news agency said that the mercenaries are linked to the Wagner group, which has carried out missions in Ukraine and Syria and is now reportedly active in countries in Africa, too.

If it is confirmed that contractors from the group traveled to Venezuela, this would be their first known deployment in the western hemisphere.

"The order came down on Monday to form a group to go to Venezuela. They are there to protect those at the highest levels of the government," Yevgeny Shabaev, a Cossack leader with ties to military contractors, told the Guardian by telephone.

Shabaev, one of the sources cited by Reuters, is a campaigner for the rights of veterans, a group that overlaps heavily with those who join mercenary groups in Russia. He said he had been told about the trip by the relatives of the military contractors. A government spokesman did not immediately respond for comment about the report, although he had earlier told Reuters that the Kremlin had "no such information".

(Read more at the Guardian)
Let's see, Russian mercenaries protect Venezuelan President Maduro and Senators Kamala Harris and Bernie Sanders are adamant about keeping American troops out of Venezuela. If there are Russian mercenary companies there, does anyone suppose that they have no connection to the Russian military?
Are the American socialists opposing any intervention in Venezuela because they don't want to have both the Russian socialists and Venezuelan socialists bested?
Russian mercenaries reportedly in Venezuela to protect Maduro theguardian.com/world/2019/jan…

—
Guardian news (@guardiannews) January 25, 2019
Pirates of the Caribbean: Venezuelans stalking open seas as economy collapses
Britian's Telegraph reports in a 30 December 2019 article that Venezuelans have started acting as pirates.
With rich Caribbean fishing grounds on their doorstep, the villagers of Cedros in Trinidad are never short of fishermen's tales to tell.

The latest stories to do the rounds though, are not about record-breaking hauls of kingfish. Today the fishermen themselves have become the catch.

"I was out picking up my nets late one afternoon when a boatload of armed men came at me at full speed," said Brian Austin, 54. "From about 200 metres away they started firing shots around my boat – it was terrifying. Luckily, I have a high-powered engine, so I managed to speed off, but they took my nets and all the fish in them."

(Read more at the Telegraph)
Venezuela & Russia are setting up a nuclear bomber base on idyllic Caribbean island
According to a 26 December 2018 article in The Sun, there is a cooperation between Venezuelan and Russian forces on a certain Caribbean island.
Venezuela's socialist president Nicolas Maduro did not object to the proposals, according to Russian newspaper Nezavisimaya Gazeta.

The deployment will represent the one of the largest postings of the Russian military in the region since the Cuban Missile Crisis in 1962.

Under Venezuelan law, military bases cannot be established by foreign nations in the country, but a temporary deployment of warplanes is possible.

Maduro and his left-wing administration has an acrimonious relationship with Washington.

(Read more at The Sun)
Oil output goes AWOL in Venezuela as soldiers run PDVSA
Reuters reports in a 26 December 2018 article that tells us how the Venezuelan military has taken over the oil industry of the country.
Last July 6, Major General Manuel Quevedo joined his wife, a Catholic priest and a gathering of oil workers in prayer in a conference room at the headquarters of Petroleos de Venezuela SA, or PDVSA.

The career military officer, who for the past year has been boss at the troubled state-owned oil company, was at no ordinary mass. The gathering, rather, was a ceremony at which he and other senior oil ministry officials asked God to boost oil output.

"This place of peace and spirituality," read a release by the Oil Ministry that was later scrubbed from its web site, "was the site of prayer by workers for the recovery of production of the industry."

President Nicolas Maduro turned heads in November 2017 when he named a National Guard general with no oil experience to lead PDVSA [PDVSA.UL]. Quevedo's actions since have raised even more doubts that he and the other military brass now running the company have a viable plan to rescue it from crushing debt, an exodus of workers and withering production now at its lowest in almost seven decades.

(Read more at Reuters)
Russian/Venezuelan cooperation in the Caribbean
A 14 December 2018 post at Tsarizm claims that Russia is in the process of setting up a military post on a Venezuelan island.
Russia has decided to develop a long-term military presence in the Caribbean in conjunction with the socialist nation of Venezuela, on one of its islands in the Caribbean Sea. The move seems to be a response to the Trump administration's decision to pull out of the Intermediate Range Nuclear Forces (INF) Treaty. The recent flights of Russian Tu-160 long-range nuclear bombers are part of this effort.

"According to military envoys, Russian authorities have made a decision (and Venezuelan President Nicolas Maduro did not object) to deploy strategic aircraft to one of Venezuela's islands in the Caribbean Sea, which has a naval base and a military airfield. Ten years ago, Russian experts and Armed Forces commanders had already visited the island of La Orchila, located 200 kilometers northeast of Caracas. Venezuelan laws prohibit the setup of military bases in the country, but a temporary deployment of warplanes is possible," reported Russian state news agency TASS.

(Read more at Tsarizm)
German Media Suggests Venezuela Might Become Russia's 'New Cuba in US Backyard'
A 15 December 2018 post at Sputnik News points out that Venezuela has lined up to become Russia's "new Cuba."
German newspaper Frankfurter Allgemeine has alleged that the disturbance in US government circles, which was incited by the visit of Russian Tu-160s to Venezuela, is caused by the fact that while the US grip on the region weakens, especially on Venezuela itself, Russia is continuing to cement its positions in the Latin American country. The newspaper even suggested that Venezuela might become a "new Cuba in the US backyard" for Russia.

(Read more at Sputnik News)
Fleeing Venezuela, migrants flood Colombia amid region's worst humanitarian crisis in decades
USA Today reports in a 19 November 2018 article how Venezuelans flooded the Columbian border rather than starve.
Lis Torrealba, a teenage mother from Venezuela, is perched on the edge of a milling street in downtown Medellin, Colombia, the same way she came to the country: alone, with her one-year-old daughter swaddled in the crook of her arm.

Once a student, Torrealba fled across the Venezuelan border three months ago with no prospects of a visa, a job or a future in Colombia.

"The money in our country, I couldn't even buy candy if I wanted to," she said. "I can't buy anything, if there's something you need. You would need a stack of money to even pay for a tomato. You would need a big stack of money."

Now, Torrealba is among more than 1 million Venezuelans who crossed into Colombia fleeing widespread food and medicine shortages, rampant hyperinflation and violence by the regime of President Nicolás Maduro.

United Nations refugee officials said last week that the number of Venezuelan refugees and migrants who have fled their South American homeland has topped 3 million people. More than 1 million are in Colombia and almost 500,000 are in Peru, while the rest are in Ecuador, Argentina, Chile and Brazil. Venezuela is home to about 32 million people.

(Read more at USA Today)
Wish I knew what he was saying... Venezuela... people eating out of garbage trucks! Why? Because this is what happ… twitter.com/i/web/status/1…

—
ℳεℓ (@mel_faith1) February 26, 2019
Venezuelan firefighters jailed for mocking Maduro
Reuters reports in a 26 September 2018 article how Venezuelan firefighters have been jailed for mocking Maduro.
Two Venezuelan firefighters were detained by military officers this week as suspects behind the making of a viral video that mocked unpopular President Nicolas Maduro by likening him to a donkey touring a fire station, two rights groups said on Friday.

Government critics, who say former bus driver and union leader Maduro is to blame for oil-rich Venezuela's brutal five-year recession, have long nicknamed him "Maburro," a play on the Spanish word for donkey, "burro."

The video showed a man using a rope to lead a donkey through a fire station in the Andean state of Merida. A narrator feigns guiding the president on an official visit in a style that seemed to make fun of fawning coverage on state television.

"Good evening comrades, as you can see we are receiving the visit of President Maduro. He is doing an inspection," the man filming says in the video, as the donkey slowly walks through a dimly lit, spartan fire station.

As the donkey chews on a verdant patch overlooking a valley, the narrator says, "He is checking whether the grass is in a good state or not."

(Read more at Reuters)